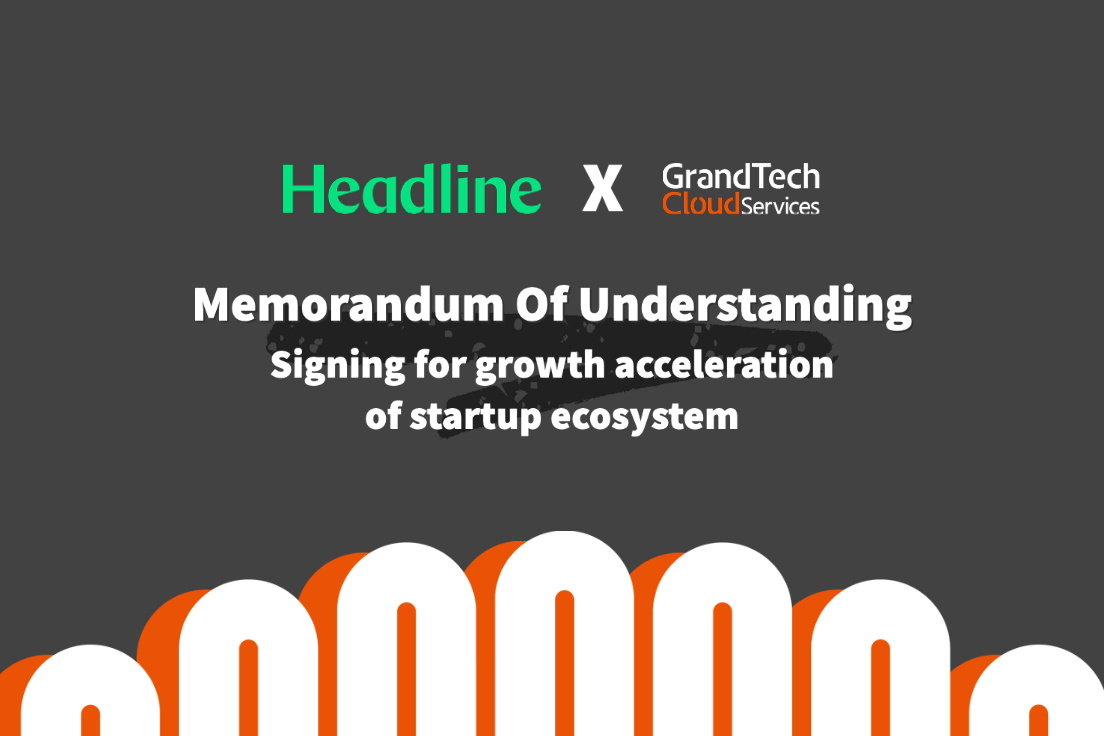 GrandTech Cloud Services Inc. (abbreviated as GCS) and Headline Asia (former Infinity Ventures) signed a memorandum of understanding (MOU) to accelerate the matching of business opportunities in the startup ecosystem, and jointly provide competitive startups with cloud services, capital, technology, aim to create more success stories in this emerging industry. 
Being the preferred partners of each other, GCS will provide cloud services and support to the potential startups discovered by Headline Asia. As a start-up company supported by entrepreneurs and teams with rich practical experience in the startup ecosystem, global venture capital, and business networks, Frankie Hsu the founder of GCS said: "GCS can carry out digital transformation, global expansion, and cloud usage optimization solutions from the perspective of startups, help establish a substantial success through cross-field and cross-industry cooperation alliances."
He also mentioned that the cooperation with Headline Asia not only focuses on providing cloud services and digital development support for startups, but they also hope to bring changes to the digitalization of venture capital.
Headline Asia is an international venture capital firm that focused on the field of Internet technology, also acts as an important bridge between startups and investors. It has fostered the growth of many well-known startups, such as Pinkoi, M17, and KKTV. Through their self-developed analysis systems EVA and Athena, they can provide investment advice from an international perspective via tracking, analyzing, and optimizing startups' data as the basis for evaluation.
Akio Tanaka, the founder of Headline Asia, said:" We hope to provide a unique and international approach for local investment in Asia, at the same time bring global development and vision to startups. Through our self-developed, exclusive systems, we will bring digitalization to the overall investment environment. The cooperation with GCS will not only provide a fast and accurate cloud environment for growing startups but also serve as a strategic partner for us to expand our business and build a win-win situation for customers."
Focusing on Asia, Headline Asia also expands to United States, Europe, South America, and other global markets, which will greatly help GCS to enter Japan's cloud market in the future. It is hoped that through this cooperation, the two companies will be able to create more value, bring changes for startups and achieve synergy through cross-industry cooperation.
About GrandTech Cloud Services Inc.
GrandTech Cloud Services Inc. (GCS) was established in 2017 as a professional cloud service provider, focusing on mobile applications, multimedia, gaming, new retail, cultural & educational media, startups, and other fields.​ GCS provides customers with diversified IaaS & SaaS services and a unified multi-cloud hosting system, continues to improve service quality, and strive to assist enterprise customers in their digital transformation and global expansion thru cross-border & industry alliance.
Official Website: www.grandtechcloud.com/cht
About Headline Asia
Headline Asia is an international venture capital company with offices in Beijing, Berlin, Paris, Sao Paulo, San Francisco, Taipei, and Tokyo, with total assets under management exceeding US$2 billion. Headline Asia mainly invests in early-stage Internet companies. So far, it has invested in more than 100 startups and has facilitated multiple IPOs. Since its establishment, Headline Asia has grown together with the companies it invests in and has successively fostered many new services and several unicorns that brought the industrial revolution, including Groupon, Farfetch, free k.k., Yeahka, WealthNavi, and 17Live.
Official Website: https://headline.com